Vintage Carl Rungius SIGNED Oil on Canvas Cabin Mountain Landscape Painting yqz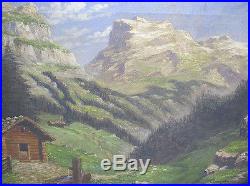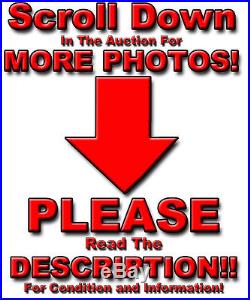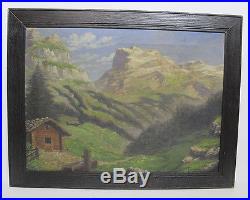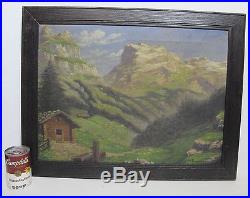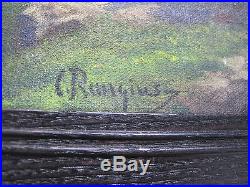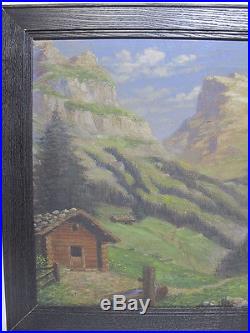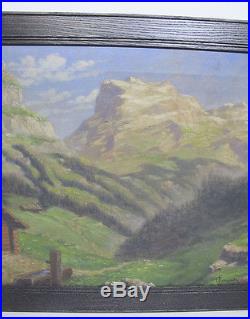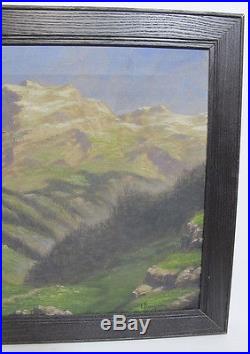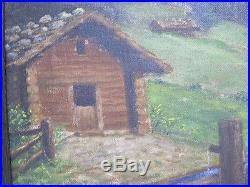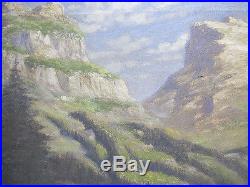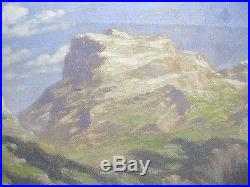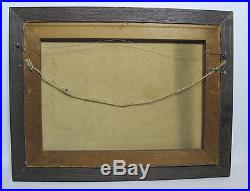 Welcome to Estate Auctions Inc! We work with consigners from Coast-To-Coast and work hard to make sure we have top quality items. We are'Your Quality Zone' - search'YQZ' to see our other listings. Vintage Carl Rungius SIGNED Oil on Canvas Cabin Mountain Landscape Painting.
We recently attended a fine art sale in Chadd's Ford, Pennsylvania where we found a few real gems, this being one of them! So even though we feel this could be an authentic Carl Rungius, we unfortunately do not have the provenance to back it up! A great view of my future home nestled in the valley of huge mountains (just kidding), with a small log built barn along the lower left corner.
Placed in a dark, wooden frame, the artwork measures approx. 19-3/4" by 25-1/2" with a sight size of 21-1/2" by 15-5/8". There is a visible stretcher shadow but otherwise we found no apparent.
Keep scrolling there are 20 pictures and. More description beneath the photos below! Be sure to scroll through our many photos to capture all the details of this original painting! AFTER Carl Rungius or an original? Carl Rungius (1869 - 1959) as found on Askart Carl Clemens Moritz Rungius was active/lived in New York, Wyoming / Canada. Carl Rungius is known for wildlife and landscape painting, illustration, etching. Born near Berlin, Germany, Carl Rungius became one of America's most noted wildlife artists, usually working in plein air or directly from nature. His grandfather was a taxidermist and animal hunter, which gave him early exposure to this subject matter. He was also a hunter of big game from childhood, and eventually his lifestyle merged with his art.
He studied art in Berlin at the Berlin School of Art, the Academy of Fine Arts, and the School of Applied Arts, and one of his teachers was Paul Meyerheim. His career as a painter began in Berlin in 1889, and much of his early work was in the style of German Romanticism and Realism. He arrived in the United States from his native Rixdorf in 1894, and settled in New York City.
He did illustrations for popular magazines, but by 1904 was focused on fine art, and by 1913, was elected an Associate Member of the National Academy of Design. He became a full member in 1920.
He fell in love with the Northwest and West, and much of his painting and hunting career of over fifty years was spent packing into the forests and high country of Montana, Wyoming, Arizona, the Yukon, and Canadian Rockies. His specialty was big game such as mountain goats, sheep, deer, and antelope in dramatic landscape settings. In 1895, he took his first trip West, heading to Wyoming and Yellowstone. He spent nearly four months on a ranch in northwest Wyoming where "he gained the first true inspirations for his life's work of depicting western life and animals".
He was a big-game hunter, and then did paintings from the trophies. It is thought that the reason he did no Yellowstone paintings was because no rifles were allowed in the Park.
However, from memory he did other paintings in Academic style with heavy, rich color and tight detailing--much in contrast to the prevailing impressionism. Ultimately it was the Canadian Rockies that held him, and, living in New York most of the year, he built a summer studio home, "The Paintbox" in Banff, Alberta in 1922, and Theodore Roosevelt became a great admirer and collector of his work.
After the artist's death in 1959, the Glenbow Foundation maintained his studio as a museum. During these extensive travels, he also became friends with many frontier people and did a series of oil paintings depicting their life. These works, of which there were not many completed, are much sought after for their accuracy and sense of spontaneity. The artist died in New York City. In a 30 x 24 x 5 box. Facts about Estate Auctions Inc. Over 10,000 repeat buyers. Please note: We put up a very ecclectic collection of items and are not experts in every area, so descriptions are our best guess as to what something is. Check back everyday to see our latest offerings!
We put YQZ in each of our titles. We are Trading Assistants - We call sell items for you! We have worked very hard to build our little business and it is very important to us. We try and do business the old fashioned way and have a rather simple outlook. Treat all of your customers as if they are family.
Be courteous, answer e-mails, be fair in all your dealings and try and make friends of each and every customer. Postal rates we needed to define and explain our methods of business. ONE - Who We Deal With.
Our materials cost is based on exactly what it has cost us to wrap similar sized items in the past. We realize that almost everything we sell is valuable to you and there is nothing worse than having something break in its final journey to your hands.
We do our best to pack properly and use the correct materials to protect your win. For oversized items or items that will take special attention to package, building a crate, wrapping many small items individually, etc. If you do not, we charge the same amount as if you did. That allows for us to have international tracking. SIX - Time Frame To Pay.
We ask all auctions to be paid for in the fastest possible time frame. With the ebb and flow of payments we manage to get everything out of the door within one week. If there is a rush, we will make every effort to work with you in getting it out of the door faster. As you can see from our feedback, we do not disappoint. OF COURSE, items that need special attention, crating, etc adds to the time frame of those items.
Sometimes an item is just too big for any other option. Unless we are out of town we make an effort to answer all emails as quickly as possible. The item "Vintage Carl Rungius SIGNED Oil on Canvas Cabin Mountain Landscape Painting yqz" is in sale since Saturday, June 11, 2016. This item is in the category "Art\Art from Dealers & Resellers\Paintings". The seller is "estateauctionsinc" and is located in Seaford, Delaware. This item can be shipped worldwide.
Condition: See photos & description.
Listed By: Dealer or Reseller
Medium: Oil
Signed?