Gil Elvgren LOLA ORIGINAL Vintage PAINTING Pin-Up SeeThrough Lingerie PINUP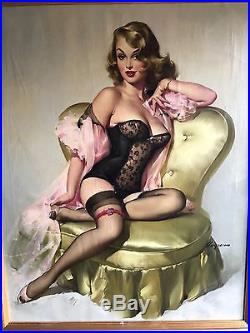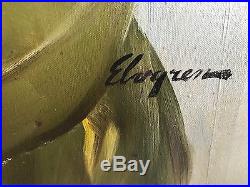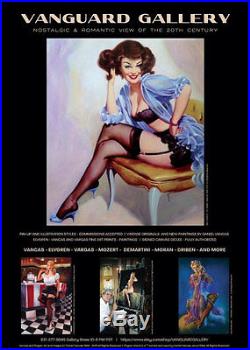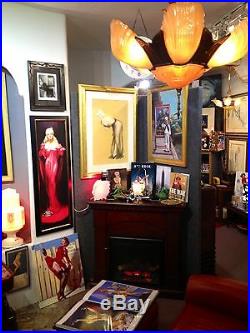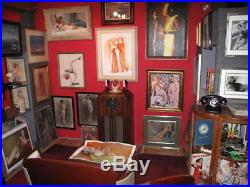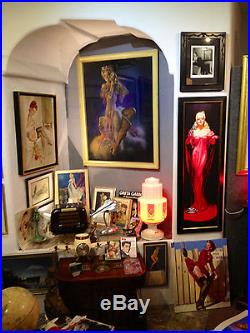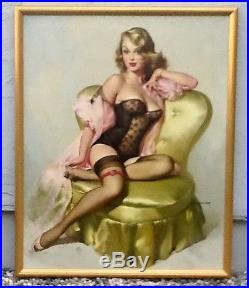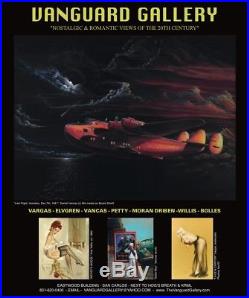 PRICE WILL INCREASE AT ANY MOMENT! ONE AND ONLY ORIGINAL 1953 PAINTING BY GIL ELVGREN. THE ONE AND ONLY ORIGINAL 1953 OIL PAINTING BY GIL ELVGREN. NOTICE: FOR SECURITY REASONS, THIS PAINTING IS NOT IN MY RESIDENCE, SHOP OR STORAGE.
IT IS IS A THIRD PARTY SAFE AND SECUR E LOCATION. HURRY PRICE MAY CHANGE AT ANY TIME! PRICE WILL ONLY GO UP! AND DONT LET THIS GET AWAY FROM YOU!
FIRST AND ONLY TIME THIS ORIGINAL ELVGREN OIL PAINTING WAS OFFERED SINCE IS WAS PAINTED IN 1953! ESTATE SALE - FIRST TIME OFFERED - RARE ORIGINAL GIL ELVGREN PAINTING.
1992 the go-to for Elvgren And Pinup Art! Fully certifiée Elvgren original vintage painting.
SITTING PRETTY also called LOLA by ELVGREN 1953 OIL ON CANVAS 24X30. CALLED BY ELVGREN EXPERTS; ART AMISE and DANIEL VANCAS as ELVGREN'S GREATEST PINUP! CERTIFIED 1953 ORIGINAL VINTAGE PAINTING BY GIL ELVGREN. FIRST TIME OFFERED FOR SALE SINCE CREATION. PIN-UP USED IN ADS AND CALENDARS IN THE 1950'S. ALSO APPEARING AS "KING OF HEARTS" ON THE POPULAR ELVGREN PINUP PLANNING CARDS. 24x30 ON CANVAS IN CUSTOM FRAME. ORIGINAL VINTAGE OIL PAINTING BY THE HAND OF GIL ELVGREN. TO MEET FOR PERSONAL INSPECTION ON REQUEST. MUST BE PRE-QUALIFIED AND ID CONFIRMED. PLEASE SEE OUR OTHER LISTINGS FOR ILLUSTRATION ART, PULP ART, AND PINUPS. Pinup girl in beautiful corset, wearing black seamed stockings and see-through negligee robe. The subject is both a confident romantic and demur. Top Elvgren experts, Art Amise and Daniel Vancas both agree this is the top Elvgren pinup of all time!
Yes, this is the real and certified, deal! Your certificate of authenticity signed by Daniel Vancas, for 25 years the primer Elvgren art expert, a fully authorized Elvgren restoration artist and fine art publisher. Daniel Vancas also owns the original Elvgren easel and the Elvgren tm, art signature brand. Elvgren painted more than 450 pinup paintings.
This painting is very Rare, as about 40% or more Elvgren paintings have been thrown away and never will be found. Ad and calendar company art warehouse collections were routinely disposed of.
This happened several times in the late 1950s and 1960 And included many Elvgren paintings. Lost forever in landfills, this one survived, and no one knew! This great one has been found by Daniel Vancas and presented here for the very first time.
Because of the high value of this offering, Buyers must be pre-qualified, may submit funds to an art escrow to. Please contact me for more information.
Great condition for age, and typical of Elvgren paintings with stable oil crazing. The painting has been cleaned. A Rare resale from the private owner after apx 60 years! Never offered before, don't miss out! DONT MISS OUT - THIS IS THE FIRST TIME THIS PAINTING HAS COME UP FOR SALE.
DON'T MISS THIS OPPORTUNITY TO OWN MOST POPULAR ICONIC ELVGREN IMAGE! FULLY AUTHENTICATED, SIGNED, CREATED IN 1952/53. SHIPS PROFESSIONALLY PACKED, CREATED AND INSURED.
DONT MISS OUT - THIS IS THE FIRST AND ONLY TIME THIS IMAGE HAS COME UP FOR RESALE IN 64 YEARS! This image is known to be a (c) BB all rights res. Elvgren tm, is an art signature and art brand owned by Daniel Vancas, 1994 - 2015, backed by a Permanent Federal Court Order, 2001, all rights res. NOTICE: Elvgren tm is the art Brand owned by Daniel Vancas and Elvgren authority since 1994.
Since 1994, Daniel Vancas is both the fine art publisher the only fully authorized Elvgren replica artist who has painted more than 240 replica paintings and performed restorations on Elvgren work. A world authority of Elvgren original art. VISIT MY OTHER LISTINGS IN MY SHOP! WANT TO BE A PINUP GIRL, OR HAVE ME PAINT A NEW CUSTOM ORIGINAL FOR YOU?
LET ME AD A LISTING JUST FOR YOU! WANT TO BECOME A RETRO STYLE PIN-UP CALENDAR GIRL FROM THE 1940'S OR 50'S? DO HAVE A COMMERCIAL APPLICATION FOR A RETRO STYLE PIN-UP? ARTIST DANIEL VANCAS of'VANCAS GIRLS - FAMOUS ELVGREN RESTORATION ARTIST, OFFERS PIN-UP - ILLUSTRATION AND FINE ART FOR PRIVATE OR COMMERCIAL REQUESTS. YOUR COMMISSION WILL BE PAINTED ON THE ORIGINAL 1930 ELVGREN EASEL.
THE VERY EASEL THAT GIL ELVGREN USED TO PAINT ALL OF HIS FAMOUS PIN-UPS, COCA-COLA AND ILLUSTRATIONS! 1992 - FIRST IN ELVGREN AND THE RETRO PIN-UP REVIVAL! NEW SCHEDULE - VERY LIMITED COMMISSIONS ACCEPTED ON REQUEST.
3-6 MIN MONTH LEAD TIME. 50% DOWN - 50% ON COMPLETION. OTHER ARTIST AND STYLES AVAILABLE. PRICE BASED ON SUBJECTS, SIZE, OBJECTS, PROPS. CALL FOR MORE DETAILS ABOUT MAKING YOU OR YOURS OR OUR SUBJECT MODEL 1930'S, 40'S, 50'S STYLE PIN-UP. THIS IS FOR AN ORIGINAL PAINTING. ART PRINT AND PUBLISHING SERVICES AVAILABLE. AMERICAN STYLE DESIGNED - CRAFTED AND MADE IN THE USA by an AMERICAN ARTIST! 100% GENUINE AMERICAN PIN-UP ART BY DANIEL VANCAS. NO CHINESE OR OFFSHORE ART MILLS, NO FAKE NAMES, NO "NON-DE-PLUME" NO "UNNAMED AMERICAN ARTISTS " AND NO "FAKE ELVGRIN ARTISTS"! AS REPRESENTED BY VANGUARD GALLERY of CARMEL, CA. VANGUARD GALLERY - Open by appointment only.
The item "Gil Elvgren LOLA ORIGINAL Vintage PAINTING Pin-Up SeeThrough Lingerie PINUP" is in sale since Thursday, February 16, 2017. This item is in the category "Art\Paintings". The seller is "vanguardgallery" and is located in Carmel, California. This item can be shipped worldwide.
: Signed
Region of Origin: US
Size Type/Largest Dimension: 24X30 canvas Plus Custom Frame
Artist: GIL ELVGREN
Style: Realism
Listed By: Dealer or Reseller
Medium: Oil on Canvas
Subject: PINUP GIRL CORSET, STOCKINGS SEE THROUGH NEGLIGEE