Painting Oil Vintage Wall Art Decor Home Original Portrait Man Genre Figurative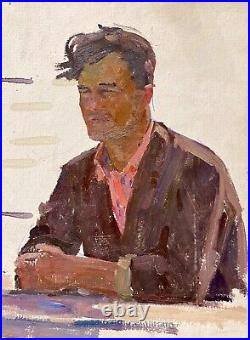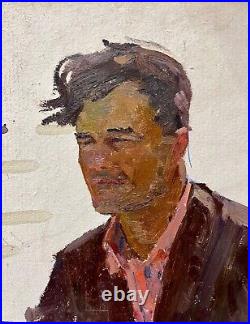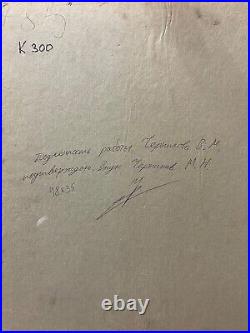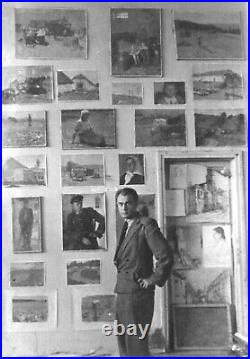 Chernikov Vladimir Mikhailovich (1918 - 1992). Ukrainian artist, master of easel and monumental painting. Chernikov Vladimir Mikhailovich was born on January 15, 1918 in Lisichansk.
In 1939 he graduated from the Voroshilovograd (now Luhansk) art school. Member of the Great Patriotic War. From 1946 to 1951 he studied at the Kiev Art Institute with E. Member of the Union of Artists of the Ukrainian SSR. The husband of the famous Ukrainian artist Sogoyan Vera Sogomonovna. In the 1950s, he participated in the design of the Exhibition of Achievements of the National Economy in Kyiv. Chernikov is a participant in art exhibitions: republican - since 1951, all-Union since 1957, international - since 1959.
He was awarded the Order of the Badge of Honor, medals, Diploma of the Presidium of the Supreme Soviet of the Ukrainian SSR. Awarded the title - "Honored Artist of the Ukrainian SSR". The artist died in Kyiv on March 17, 1992. Chernikov's works are kept in the National Art Museum of Ukraine, Donetsk Regional Art Museum, in private collections in Ukraine and abroad.
The authenticity of the painting was confirmed by the artist's grandson Mikhail Chernikov. One of a kind artwork. Paintings are carefully packed in order to protect from any damage during transportation.
Cardboard paintings should be sent in a cardboard box. Canvas paintings should be sent rolled up on pipe covered with protecting materials.