TED WITHERS ORIGINAL Vintage PIN-UP Nude DRAWING Pinup HAT Stockings Burlesque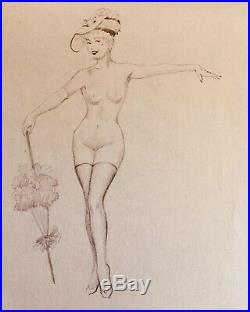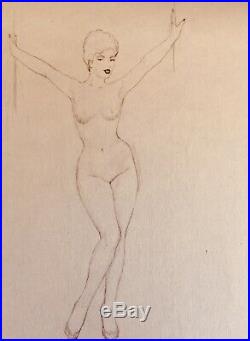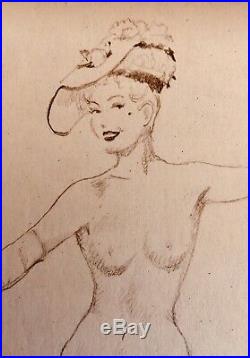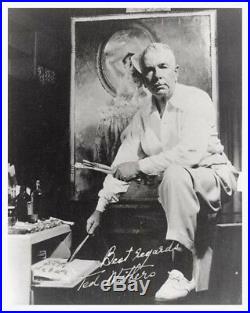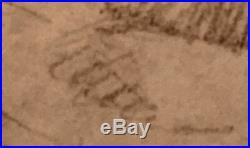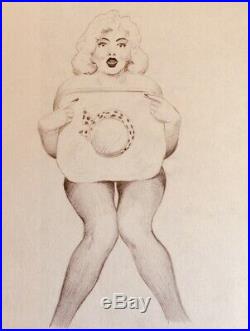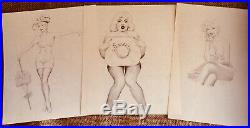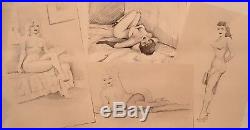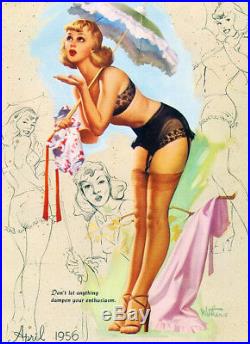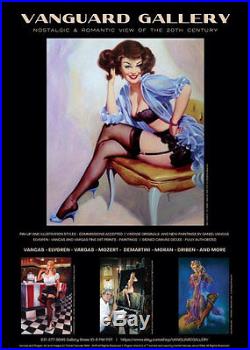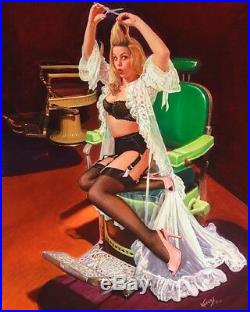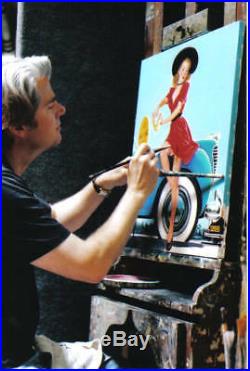 VANGUARD GALLERY of CARMEL PRESENTS. IN THE 1940s and EARLY 50s PIN-UP ERA AND STYLE OF VARGAS, ELVGREN, PETTY AND MORAN. " Vintage 50s BURLESQUE Moulin Rouge MARILYN style NUDE Legs in Stockings, Heels and Hat". One of my best drawings in this vintage collection!
Rare Burlesque 2 sided drawing - See first 2 images for front and back. A vintage pinup with a beautiful face. An affordable vintage original one of a kind pinup art! "WITHER'S of HOLLYWOOD" A POPULAR 50s PINUP ILLUSTRATOR. Ted Withers created the popular "Artist Sketchpad" Calendar pin-up series of paintings.
He was also ahead art director at Hollywood's important film studios of the time. This is the preliminary but detailed drawing on paper, 7 w X 8 h inches - circa from the late 1940s and early 50s.
See more details of this offering below before ordering. Stored since new near mint condition.
If you like this one please review the other offerings. This listing is for the first drawing shown only, see other listings for other drawings. Unsigned Attributed to Withers with an expert opinion by Vanguard-Gallery's resident pinup artist, Daniel Vancas, and art's bio below.
Collection found with one signed drawing, "Withers" in the group. Several models identified as Marilyn Monroe, Mamie Van Doran, Bettie Page, and other popular actresses, models and burlesque performers. Bought from Los Angeles estate many years ago. These drawings were recovered unused and stored since new and carefully packaged, and bought from an estate sale dealer in Los Angeles several years ago. This was from a larger collection of smaller carefully crafted commercial-grade pinup drawings, mostly nudes.
I decide to sell a few of these fantastic drawings. These are presented to you for the first time. Some have a 2nd drawing on the reverse.
I will note it in the listing when they do. MY OPINION and the DISCOVERY. Recently while reviewing the drawings I found a very small signature of the artist barely discernible but visible. At last, I can say my opinion is confirmed.
This art in my expert opinion is the unsigned development studies and drawings of Ted Withers and based on the models used from the 1940s through 1950. I have also owned Fritz Willis and Mac Pherson paintings, also with background sketches in the paintings. All were used for the creation of the popular "Artist Sketch Pad" calendars of the late 1940s and 50s.
I have studied the drawings on the backgrounds of the oil on board paintings by Ted Withers carefully, as well as the other two artists. All three were living in Southern California then.
I have cleaned and partially restored them. This precise skill, craftsmanship and of his linework was amazing and better than most.
I have also have collected many of the vintage 1950's Wither's Sketchbook calendars as well. Knowing he was an artist working in and around Los Angeles and Hollywood, including MGM that was in Culver City, it was no surprise to me when I found this collection of highly skilled precise pinup art drawings of models and some Hollywood stars of the late 1940s and 1950s. All of the drawings came out of one package in an estate sale.
There was no provenance or description other than it was from a local pinup artist to the now deceased. Since I knew that there was three in the Southern California area that did "Artist Sketch Books" in the 1950s, for the same calendar company, I had it narrowed down.
But it was the skill and precision drawing method of a highly trained artist that clearly set him apart from the other two highly talented artists. And yes I also owned Fritz Willis and a Mac Pherson with sketches in the paintings, but these clear and uncompromising lines in the drawings ruled them out. Yes, my 25 years as a pinup artist, an Elvgren replica artist, and expert helped me to determine who did these unsigned drawings. My best opinion is that it's attributed to Ted Withers. Which by the way was his and several others pinup and illustrators custom not to sign art. More so if they were considered mock-up drawings. This was so the calendar art department could put a past up of his signature in the final best layout they saw fit. Recently while reviewing the drawings I found a very small signature of the artist barely discernable and hidden but there. On showing several of these to my acquaintance, popular movie Star and pinup glamour girl of the era, Mamie Van Doran, she also told me the art was the late 40s and early 50s. She had posed for Vargas, but could not confirm the names of other artists. Mamie and Marilyn's photos were distributed throughout Hollywood and the studios, so the artist who also worked there has access to many photos to merge with Wither's own studio models. This too was a common practice with all the pinup artists. CONCLUSION: After review, It is my best opinion that I know of no other artist of this level of skill, prolifically drawing pinups of popular known and unknown models in the late 1940s and 1950s that could execute this work, in such a consistent way, then Ted Withers.
Daniel Vancas, pinup artist and collector, Director Vanguard Gallery, Carmel since 1992. TED WITHERS of Hollywood, ARTIST BIO: Ted (AKA Edward) Withers was born in Wellington, New Zealand. He studied at Wellington College then traveled halfway around the world to London.
There he continued his art instruction at the Royal Academy of London. Afterward, Ted studied at the South Kensington School of Art and the Slade School of Art. Finally, he joined the prestigious Académie Julian in Paris for advanced art studies. Withers was awarded three decorations for his service during World War One where he was stationed in Samoa, Egypt, France, and Germany. In 1924, Withers moved with his wife and two children to America. He found work in Hollywood. On the side doing celebrity portraits, special effects, and finally art direction at MGM studios.
After Ted Withers continued fine art painting on the side. When he took up painting pin-ups and produced numerous calendar girls for a big calendar Company during the 1950s he became a very popular addition to the line up of pinup artists that included Gil Elvgren, Earl Moran, Mozart, Mac Pherson, and many others. The company he worked for was one of the biggest producers of calendars in the twentieth century with a complete distribution throughout America and much of Canada. A distinctive feature of Withers pin-up work was the inclusion of pencil drawings of nudes and semi-nude figures in the background of the oil paintings. This was to create and simulate the design of an "Artist Sketch Pad" for the finished calendar design.
This required the use of a number of prelim drawings for mockups. Ted Withers was at the Ad and Calendar company's annual convention in 1950 while talking with Norman Rockwell, Rolf Armstrong, and Gil Elvgren. These established artists praised him as "one of America's greatest, most versatile painters" and Elvgren, who was also a talented photographer, added, "Ted was one of the best photographers in the country". Withers continued painting pinups until 1961He passed away in 1964. GENERAL DESCRIPTION OF THE ART OFFERED.
Unframed, Pencil on paper, artist draft. Condition as seen in photos. Good condition for age, stored since new.
These drawings offered in this Vanguard Collection are estimated to be from the 1940s and 50s. All are good to great condition, some near mint, some minor storage edge wear. All can be professionally framed and displayed with great results. As the art is on a tan slightly yellowed paper, some slight variation in photos to art.
THIS IS THE FIRST TIME MY COLLECTION HAS BEEN OFFERED HERE! LOVE PINUP ART AND ILLUSTRATION? PLEASE VISIT MY OTHER LISTINGS! PIN-UPS nudes and illustrations are rare and highly desirable and raising in value at auctions. Historically art departments for pinup advertisers as well as most movie companies, advertisers, pulp, calendar, and magazines would routinely throw away older art archives. In this way many artist's illustration works were lost at a rate of 40 to as much as 95%, leaving the old paper printed materials as the only lasting image. However, This rare painting survived! This was in private collection for years and this is the first time offered here! Art can be inspected on request. Vanguard Gallery has been in business since 1992.
Known for the home of pinup revival and Elvgren, Vargas, Petty, Runci, Moran, Zoe Mozert, Daniel Vancas, DeMartini and more artists. VANGUARD-GALLERY is where you'll find, rare images of Marilyn Monroe, Bettie Page, Retro and vintage Nudes and pinups in Lingerie, Garter Belts, Glamour, stockings and nylons, and frilly panties, all playfully flirting with the viewer...
We also have historic objects, antiques, radios plus illustrations and advertising from the deco to modern period. Aviation, WWII, Island, Hula, Tiki and so much moreThis fine art painting highest quality! Excellent condition for age and medium. PLEASE SEE MY STORE & OTHER LISTINGS FOR ORIGINAL PAINTINGS, PRINTS, AND OTHER COLLECTIBLES. Artist to be offered include Elvgren, Vargas, Varga, Petty, Moran, Vancas, DeMartini, Petty, Earl Moran, Fritz Willis, Runci, Thompson, Driben, Bradshaw Crandell, Enoch Bolles (Boles) and more!
Lots of retro pin-up girls, movie stars, Marilyn Monroe, burlesque teasing in vintage nylons, stockings, garter belts, bra, panties & lingerie! (c) 1994 - 2019 Vancas/Vanguard Gallery all rights res.
The item "TED WITHERS ORIGINAL Vintage PIN-UP Nude DRAWING Pinup HAT Stockings Burlesque" is in sale since Monday, September 16, 2019. This item is in the category "Art\Paintings". The seller is "vanguardgallery" and is located in Carmel, California. This item can be shipped worldwide.
Region of Origin: US
Original/Reproduction: Original
Artist: Ted Withers attributed
Style: Realism
Listed By: Dealer or Reseller
Medium: Drawing
Date of Creation: 1950-1969
Features: Great condition
Subject: PINUP NUDE
Originality: Original