Vintage Landscape Oil Painting, Signed 1947 O. G. Lewis The Gospel Artist, MCM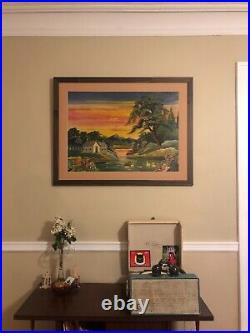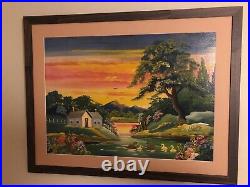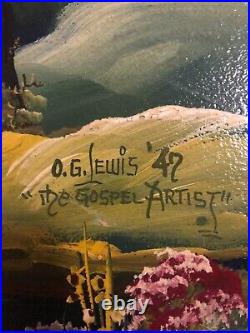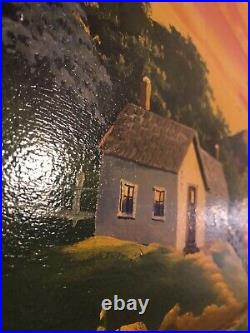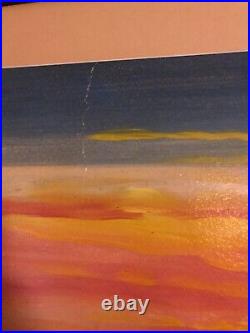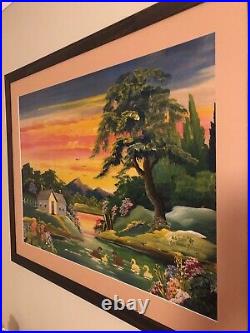 Add a touch of tranquil beauty to your home with this stunning original oil painting by the renowned artist O. Dated and signed by the artist in 1947, this captivating artwork embodies the essence of mid-20th century colorful landscape art, showcasing Lewis's exceptional talent and distinctive style. Usual works from Lewis portray vibrant colors and meticulous brushwork that transport you to a peaceful country home on a river with nature thriving around the entire scene in all its glory.
Lewis masterfully captures the play of light and shadow, infusing the landscape with an ethereal quality that mesmerizes the viewer. This particular artwork exemplifies O. Lewis's signature style, which has garnered acclaim and admiration. As a traveling minister, Lewis embarked on journeys that inspired the creation of these remarkable paintings. Their art resonates with a deep spiritual connection to nature, infusing religious symbolism into the breathtaking landscapes.
It is through this fusion of faith and artistic expression that O. Lewis's works evoke a profound sense of awe and contemplation. This original oil painting is a rare find and a testament to O. It is a one-of-a-kind piece that will enhance any art collection or home décor. This artwork's timeless beauty and serene ambiance make it a cherished addition to any space, providing a glimpse into the mid-20th century's vibrant and colorful landscape art movement. Signed by the artist: Yes. Dimensions (Just Painting): 31" x 22". Dimensions (Framed): 38" x 30". This painting has been well-preserved for over 75 years but with age does come some wear regardless of how well-kept the painting has been.
These imperfections are listed below. There is a portion at the top left of the painting where the oil paint has a slight crack.
This thin crack is shown in full in the images and we have adjusted the total price to compensate for this slight imperfection. There are also two very small white scuff marks on the middle left portion of the wooden frame that can be buffed out or replaced by new frame edges if desired. Again these marks are not noticeable at all from afar and do not take away from the original painting at all.
Just simply some cosmetic frame imperfections that should be noted.