Vintage Signed Jean Tudor Modern Enamel Copper Art Bowl Modernist Fish Painting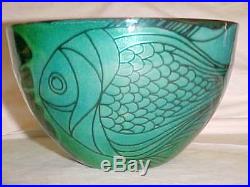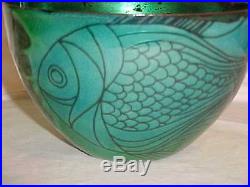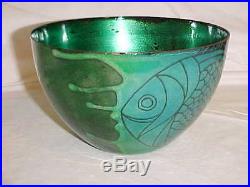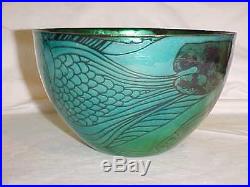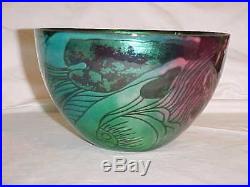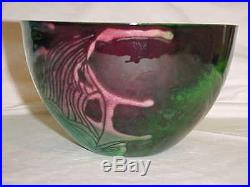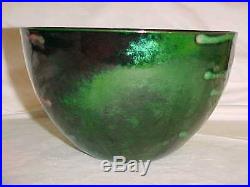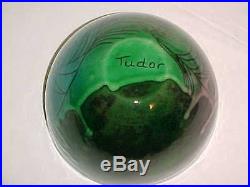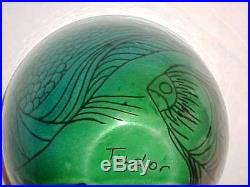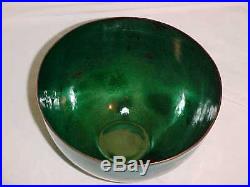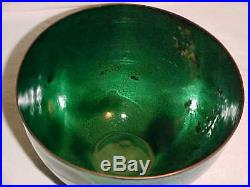 HERES A SIGNED ORIGINAL VINTAGE MODERN ENAMEL-ON-COPPER BOWL CREATED BY EDGEWOOD, WASHINGTON ARTIST JEAN TUDOR! Measuring a little over four inches (4 1/8) in height by six and five eighths inches (6 5/8) in diameter across the top, Jean Tudor created two beautifully stylized fish swimming along the side of the bowl rendered in variegated dark blue, green and brown enameling. Tudor employed a sgraffito technique to draw the fish within what appears to be thickly applied creamy liquid enamel. She then fired the bowl in a reduction atmosphere to give the enamel surface an iridescent quality. This may be an example of Tudors Raku Enameling (please see the artists own website for more detailed information). The bowls interior is enameled in the same variegated dark blue, green, and brown enameling. Signed within the enameling itself on the underside bottom Tudor. Condition: The exterior enameling with the fish painting is absolutely beautiful and flawless! The bowls interior, which is a more translucent enameling, does show a couple of craze lines and there are what are called brush lines on the surface of the underlying copper that are showing through the translucent enamel (but these are original to the bowl). Please scroll down to read the artists biography about Jean Tudor! JEAN TUDOR BIO (the following information is courtesy the artists own website).
She is married to William E. Tudor, a retired Episcopal priest. She has been a member of The Enamelist Society since its inception in 1987. She is a juried member of the Northwest Designer/Craftsmen. Jean teaches cloisonné, raku-fired enamels, and hot-formed enamels workshops in various places around the country in addition to teaching every summer at The Grünewald Guild, an art/faith center near Leavenworth, WA.
She has served on the Grünewald Guild board of trustees. She is represented by The ArtHouse (Olympia, WA). Art Studies: BA in History, Education, and Literature; University of Puget Sound, Tacoma, WA, 1956. Enamels studies; Penland School of Crafts 1970 (Mary Ellen McDermott and Fern Cole), 1971 (James "Mel" Someroski) and 1973 (William Harper). BFA in Metalsmithing; Wayne State University, Detroit, MI, 1981 (Phillip Fike, Gene Pijanowski, Mark Hall). ARTISTS STATEMENT (courtesy the website for Northwest Designer Craftsmen). Enamel is a continually expanding source of fascination, with its ancient roots and variety of techniques.
My current work encompasses cloisonné, traditional sifting and inlaying of the ground glass, and raku-fired enamels. I enjoy playing the chaotic raku results against the highly controlled cloisonné images. And, of course, it is all about color and light. Glass has a wonderful and great range of colors, the effects of which are broadened by changes in light from hour to hour and season to season, and all this is enhanced by using both transparent and opaque enamels over different metal surfaces.
My imagery comes from a variety of sources: my love of the planet, interest in marks man has left on the land, history, literature, family history, time in Latin America, liturgical artany number of things. LASTLY, SHOULD THE WORD "EAMES" BE USED IN THE SEARCH TITLE, IT IS THERE FOR THE PURPOSE OF REFERENCING THE MID-CENTURY TIME PERIOD OF THE 1940S THROUGH THE 1970S. 14 THIS ITEM IS BEING OFFERED BY DESIGN REFERENCES -- ESTABLISHED BY A FORMER ART MUSEUM CURATOR TURNED BOOKSELLER SPECIALIZING in OUT-OF-PRINT and PERIOD MATERIALS on the PROGRESSIVE IDEAS of MODERNISM and POST-MODERNISM in DECORATIVE ARTS and ARCHITECTURE, INDUSTRIAL and STUDIO ARTS of the 19TH & 20TH CENTURIES.
15 PLEASE -- NO REQUESTS FOR PHOTOCOPIES OF THIS ITEM. I DO NOT MAKE PHOTOCOPIES UNDER ANY CIRCUMSTANCES.
16 AGAIN, COMMUNICATION IS KEY! 17 LASTLY -- WHEN OBSTACLES AND PROBLEMS LOOM LARGE AND YOU SEEM TO BE AT A STAND STILL, REMEMBER THAT EVEN A FALTERING STEP FORWARD IS BETTER THAN NO STEP AT ALL.
The item "VINTAGE SIGNED JEAN TUDOR MODERN ENAMEL COPPER ART BOWL MODERNIST FISH PAINTING" is in sale since Saturday, October 21, 2017. This item is in the category "Collectibles\Vintage, Retro, Mid-Century\1950s".
The seller is "singeldad" and is located in Lafayette, California. This item can be shipped worldwide.
Artist: Jean Tudor
Art Medium: Enamel on Copper
Signed: Tudor
Date: 1970s -- 1990s
Country/Region of Manufacture: United States